For those that are ready for Transformation RIGHT NOW. They want to supercharge their shift and they don't take no for answer!!!
SUPERCHARGE your VIBES with the MOST POWERFUL FREQUENCIES ON THE PLANET!
When you seek the help of a crystal, you are enlisting a powerful ally to "raise" your vibrational frequency. No matter what the crystal is used for, its desired effect is always an increase in your vibrational frequency.
How is it that healing crystals can have such a profound effect on us? The therapeutic benefits of crystals and rocks may still be a mystery to the modern medical association, but anyone who has ever held a soothing quartz, knows how powerful crystals can be.
The subtle vibrational levels of healing stones, crystals and rocks may be beyond the realm of scientists, but once you've experienced it for yourself, you'll know that the ancient mystics have a lot to teach us.
Program your crystal: Selecting a crystal for a particular purpose is a great way to help yourself without having to devote much energy to it. The proximity of the crystal is constantly affecting your own frequency, guiding you upward toward your goal. Similarly, a crystal that does not have a good match is constantly draining you by lowering your vibrational frequency. Hence, selecting the right crystal is of crucial importance.
One of the early pioneers of silicon chip technology was Nobel prize-winning scientist Marcel Vogel. He made a discovery while working as a research scientist for IBM that shook to the core the belief systems of his scientific peers. Vogel discovered that not only can crystals be programmed as silicon chips in a computer, but they also can be programmed with thought. A person sitting at a computer inputs his thoughts through a keyboard. This is stored in the computer's silicon chips via the medium of electricity. Vogel reasoned that like electricity, thought is a form of energy, which is given direction by our intention. He concluded that crystals could also be programmed without the need for electricity, by using just thoughts or clear intention. Vogel designed a multitude of experiments to validate his quantum theories
Beautiful, Organic Quartz Crystal bar with rotating disc. The disc shines lights of blue, green, red and yellow at intervals while the crystal rotates on the disc! Leaving this on during the day will give you a discernible shift in the energy of your home. Leave it on at night to use as night light!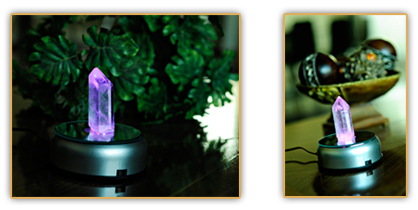 Use with healings to enhance the healing effects and release more fully. Use while listening to meditations, activations to absorb more deeply,
Use while making your New Year's action plan to amplify your intention,
Uses are endless ...
Use your Quartz crystal to:
Increase your energy
Laser focus your intention to bring super-fast manifestation!
Protect yourself from negative vibration and/or entities
Bring more balance, grace, and harmony to your life
Enhance the effects of a color therapy
Promote balance in the relationship among your body, mind, and emotions
Give to your children when taking tests or job interviews
Create a protective grid around your bed, your home or your neighborhood!
Use with FengShui principles to super enhance energy
Get a quick energy boost at any time!
Foster balance within and among your body's physical processes
Balance your mind's creative and analytical aspects
Regain your balance after a life-changing or traumatic experience
More easily learn from past experiences so you can make better choices
Have a dear, trusted friend by your side all the time!
You can also use a Quartz necklace to help resolve any of the following conditions:

Low or sluggish energy

Illness, injury, or pain

Feeling overwhelmed

Feeling out of balance physically, emotionally, or mentally

CAUTION:

Only use real, organic Quartz. Synthetic Quartz is a cheap imitation is only as good as glass.